C'est reparti pour une nouvelle semaine et vous commencez à nous connaître, on ne perd pas les bonnes habitudes : voici donc votre WOD hebdomadaire proposé par Expression Athlétique. Suivre nos WOD chaque semaine, c'est l'occasion idéale pour s'équiper avec les produits de notre boutique en ligne afin de les tester (et de les adopter !).
Pour cette 13ème séance que notre équipe vous propose, on va voir si le nombre 13 vous portera chance avec une séance réussie sans trop suer ! Mais notre intuition nous dit que de grosses gouttes risquent de couler sur les fronts.
Essayez de nous faire mentir, et quoi qu'il en soit, nous vous souhaitons une bonne séance à toutes et à tous !
Le WOD de la semaine (4 octobre – 10 octobre)
WARM UP :
4 répétitions de :
30″/30″ Bike / Row
5/5 Dumbell Hang Clean High Pull
5 Scap pull up
SPECIFIQUE WARM UP :
3 répétitions de :
10 Scap Pull up / 10 Knees Raise / 10 Toes to bar
5/5 Hang Clean
5 Cal Erg Fast
SKILL : BIKE + ROW
Dans une fenêtre de 2 minutes :
Pour les hommes : 17 Cal Bike + 9 Cal Row
Pour les femmes : 14 Cal Bike + 6 Cal Row
À répéter 4 fois, avec 2 minutes de repos entre chaque répétition. 
METCON :
Complète le plus de fois possible en 9 minutes :
21 15 9
Cal Erg
Double Dumbell / Kb hang Clean
Toes To Bar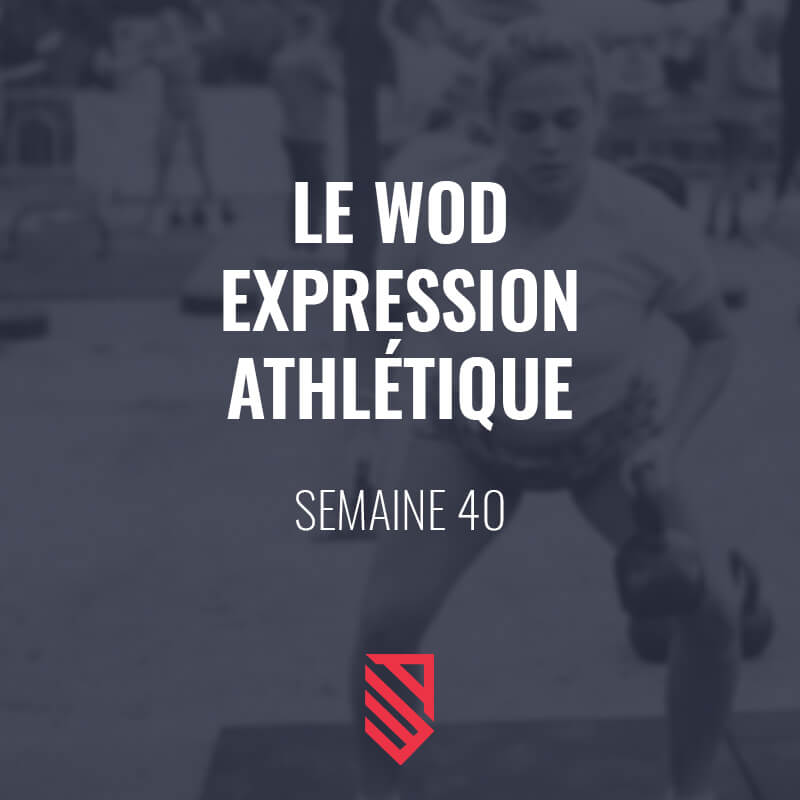 Toute l'équipe d'Expression Athlétique vous souhaite un bon entraînement à tous !