Vous étiez au rendez-vous des Up on the Box ce week-end ? Si oui, vous avez certainement vu notre stand, présent sur place tout le week-end !
Même si les Up on the Box sont passés, pas question d'arrêter l'entrainement pour autant. Vous commencez à nous connaître : Expression Athlétique vous accompagne pour améliorer vos performances dans le temps en vous proposant des produits de qualité professionnelle, des formations et coachings, mais aussi des WOD hebdomadaires entièrement gratuits.
C'est donc parti pour cette 9ème édition de notre WOD de la semaine. Bonne séance à tous et à la semaine prochaine !
Le WOD de la semaine (30 août – 5 septembre)
WARM UP :
3 rounds of
10 Gobelet Squat
10 Swing
10 Single Arm Half Kneeling Press
3 rounds EMPTY BAR
3 Clean High Pull
3 Tall Squat Clean
3 Front Squat
3 Jerk
SKILL :
EMOM 5′ 45%
1 Clean High Pull
1 Tall Squat Clean
1 Front Squat
1 Jerk
EMOM 4′ 55%
1 Squat Clean
1 Hang Squat Clean
1 Jerk
EMOM 3′ 65%
2 Squat Clean & Jerk
Puis 5 Reps @80% of Back Squat
METCON :
Dans une fenêtre de 16 minutes :
27 Hang Power Clean 45/25
200m Run
21 Hang Power Clean
200m Run
15 Hang Power Clean
200m Run
9 Hang Power Clean
200m Run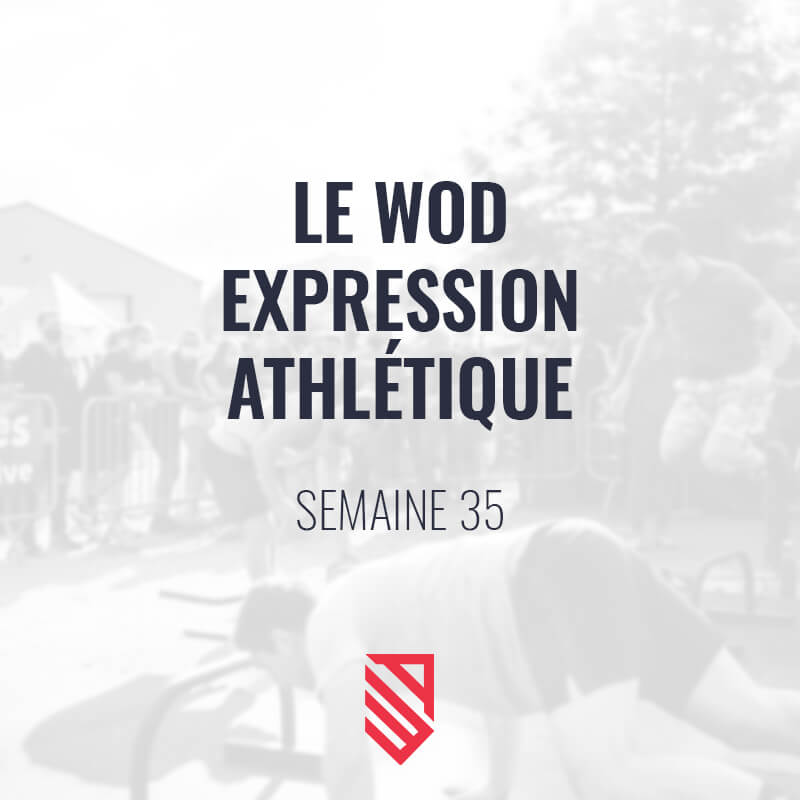 Toute l'équipe d'Expression Athlétique vous souhaite un bon entraînement à tous !